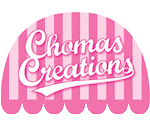 Today we have a special treat . . . Guest Designer ~ Amy Chomas!
Amy is going to show us the difference between using an embossing tip and an engraving tip, and a great way to make our Halloween projects even better!
I like to show the difference between the Chomas Creations embossing kit & the Chomas Creations engraving tip from time to time using the same image, so you can get a better idea of what they each do! With the Chomas Creations embossing kit you get a raised image on things such as metal or vellum. Here I used it on a metal sheet to make the spooky title and the embossed cirlce image. I sanded the raised image to give it this look.
I used the Chomas Creations engraving tips with Core'dinations cardstock on these frames to do the spooky title and circles.
I decided to try something a bit different this time and added some Mod Podge to the engraved cardstock to see what would happen, and I really like how it glossied it up just a bit.
Notice the difference? One is more for embossing (leaving a raised surface with the Chomas Creations embossing kit), and the other for engraving, or etching (scratching into the material with the Chomas Creations engraving tip).
If you have ever looked at the tips together, they do have different tips to them. The Chomas Creations embossing tipis an aluminum tip, which the Chomas Creations engraving tiphas a tip made of carbide.
Here are all 4 of the finished Halloween frames I did! The papers and goodies are all Making Memories.
You can get both the Chomas Creations embossing kit or engraving tip on sale this week in the Chomas Creations store when you use the coupon code pink10 at checkout for 10% off your entire order!
**************************************************
Thanks Amy for showing us how both of these product work. They really add that extra touch to your projects!