Are you looking for some new craft ideas for Thanksgiving? I have a new Turkey Lollipop Holder for you, and I will also be sharing links to other blogger's Thanksgiving crafts here!
By the way, this post contains Affiliate Links to companies I have partnered with, such as Amazon. As an Amazon Associate I earn from qualifying purchases. You can think of affiliate links like tipping your waitress, only it does not cost you anything extra! Thank you for shopping with my links!
I don't normally do a lot of craft ideas for Thanksgiving, especially since my children are older now. Years ago I did do a Cookie Turkey with my daughter that you can see HERE. This year I saw an idea made out of wood for a Turkey Lollipop holder and since I am not a woodworker I wanted to try and figure out a way to make it out of other craft supplies.
Thanksgiving Turkey Lollipop Holder Supplies
Below are the supplies you will need with links directly to Amazon for ease of shopping.
Three foam discs in different sizes

I used a 5.9 inch, 7.9 inch and 9.9 inch disc

Cardstock

You can cut all of the shapes out of cardstock, but I am going to show you a trick I like for using scraps of vinyl for smaller elements like the eyes of this turkey lollipop holder

Cutting machine like a Cricut or StarCraft Solo

You will also need a cutting mat to go with your machine

Suckers, lollipops or even cake pops

I am using the Starburst Lollipops because I thought that the red, yellow and orange colors worked perfect to look like the colors of the feathers of the turkey

Thanksgiving Turkey Lollipop Holder SVG, created by me! Just click the download button below.
If you have never used a SVG file, make sure to check out my tutorial that will explain what a SVG file is, how to download it and open the zip folder and then which file is the correct one to upload into your cutting machine. Just click HERE to learn all about using SVG files.
Craft Ideas for Thanksgiving
Making your Thanksgiving Turkey Lollipop Holder
To start off, I cut all of the pieces of cardstock for this lollipop holder from the SVG file. Once you have the brown pieces that will cover the foam discs cut, use those as a template to know how much you will have to trim off the bottom. I simply placed the brown body pieces over the foam discs and used a pen to make where the bottom of the piece would need to be.
To cut the foam pieces I used a utility knife. I did this portion outside since cutting foam like this can be messy. The key is to do nice straight cuts and not try to go too deep. Just keep doing those cuts over and over and eventually you will notice that the blade is all the way down into the foam. At that point I was able to bend the foam on the cut line and break it to separate it the rest of the way.
After you have the foam pieces cut, brush off that bottom edge so that it is a little smoother and there are not any stray pieces of foam hanging on there. You could take a sanding block and run that across the bottom. If you don't have a sanding block, rub that cut edge back and forth on your sidewalk a few times to smooth things and break off bumpy edges.
Next I painted the curved edge of all three foam pieces. I also painted into the flat edges of the foam piece just in case the cardstock we are going to use is not a perfect fit. I set my foam pieces on top of some jars I had so that everything could dry and I would not have to worry about getting paint on my craft table
I know some people will wonder why I did not just paint the whole piece and skip using the cardstock completely. I took a picture to show why.
One piece is covered with cardstock and the other is only painted. You can see that the paint did not do a complete and smooth coverage. Additionally I know that this turkey display will be out around children, and if they can see the foam they will poke at it. I am hoping that if they only see the cardstock they will not be as tempted to poke the turkey.
After the paint was dry, I used a mechanical pencil to make the holes that the lollipops will be inserted into. You can use any object that is thin like this with a point at the end. Instead of just stabbing the pencil in, I used a turning motion to almost drill the hole into the foam.
I spaced my holes about 2 inches apart. For the smallest and the largest foam disc I started with the first hole right about the top center of the disc. For the middle sized disc, I started each hole 1 inch off of the center. This way when the three discs are stacked the lollipops will be spaced out and sort of offset from each other. The image below shows the spacing better.
After I have the holes for the lollipops made, I simply used glue to place the brown cardstock body pieces on the foam disc pieces. Since the largest foam disc will be fully visible from both the front and the back, you will have to glue one piece of cardstock to each side. For the other two pieces, you will only really see the front sides of the foam disc so that is why you only need to cover one side with cardstock.
Next you can add glue to the back of the middle sized disc. The back side is the side where you can still see the foam. Center that and place it on top of the largest disc, with the bottoms lined up. Now do the same thing for the smallest disc, gluing that on top of the disc you just placed.
Craft Ideas for Thanksgiving
The image on the left shows the layers all stacked up on top of each other, and then I placed a book on the top of the stack and left them alone overnight so that the glue could dry. The image on the right shows how the completed display will look once it is standing up.
Now all I have to do is put together the pieces for the turkey's head. Here is where I did a trick I like to use . . . I cut the eyes out of permanent vinyl! This makes it easier to work with small pieces because you have the contact paper, which I use instead of transfer tape, to help you place those small pieces. I did a short TikTok video showing this process.
I think this little turkey is so cute . . . and so simple to make! Don't forget to grab my free SVG file for this project!
Here is a close up of his face.
Once you have the turkey head completed, use some adhesive to stick that to the front of the smallest foam disc. The last step is to fill the whole thing up with the lollipops, and then you can display this for a fun treat.
I hope you enjoyed my craft ideas for Thanksgiving! Now let me show you some MORE Craft Ideas for Thanksgiving from myself and fellow crafters!
More Craft Ideas for Thanksgiving
Craft ideas for Thanksgiving do not need to be hard to make. I put this one together in a matter of minutes! Best of all I was able to use up scraps of iron on vinyl for the leaves. You can purchase this SVG with the link below or from my shop.
This fall leaves place card SVG is perfect for your Thanksgiving table. You can add each guests name to the large white space. The fall leaves can be made with iron on vinyl, and are a perfect way to use up scraps.
After dinner is done, some people might want to relax with a good book. This Turkey Corner Bookmark is an adorable paper craft project you can make in a matter of minutes!
This Turkey Corner Bookmark SVG makes an adorable crafting project for your Thanksgiving festivities! How to use the Turkey Corner Bookmark SVG File If you have never used a SVG file, please review the information I have HERE about how to download them, extract them and then upload them to Cricut Design Space. By purchasing…
Have you ever made a cake topper? Not only do these look adorable on a cake, but you could also use them in a floral arrangement or centerpiece. Looks like I just gave you even MORE craft ideas for Thanksgiving from this one craft!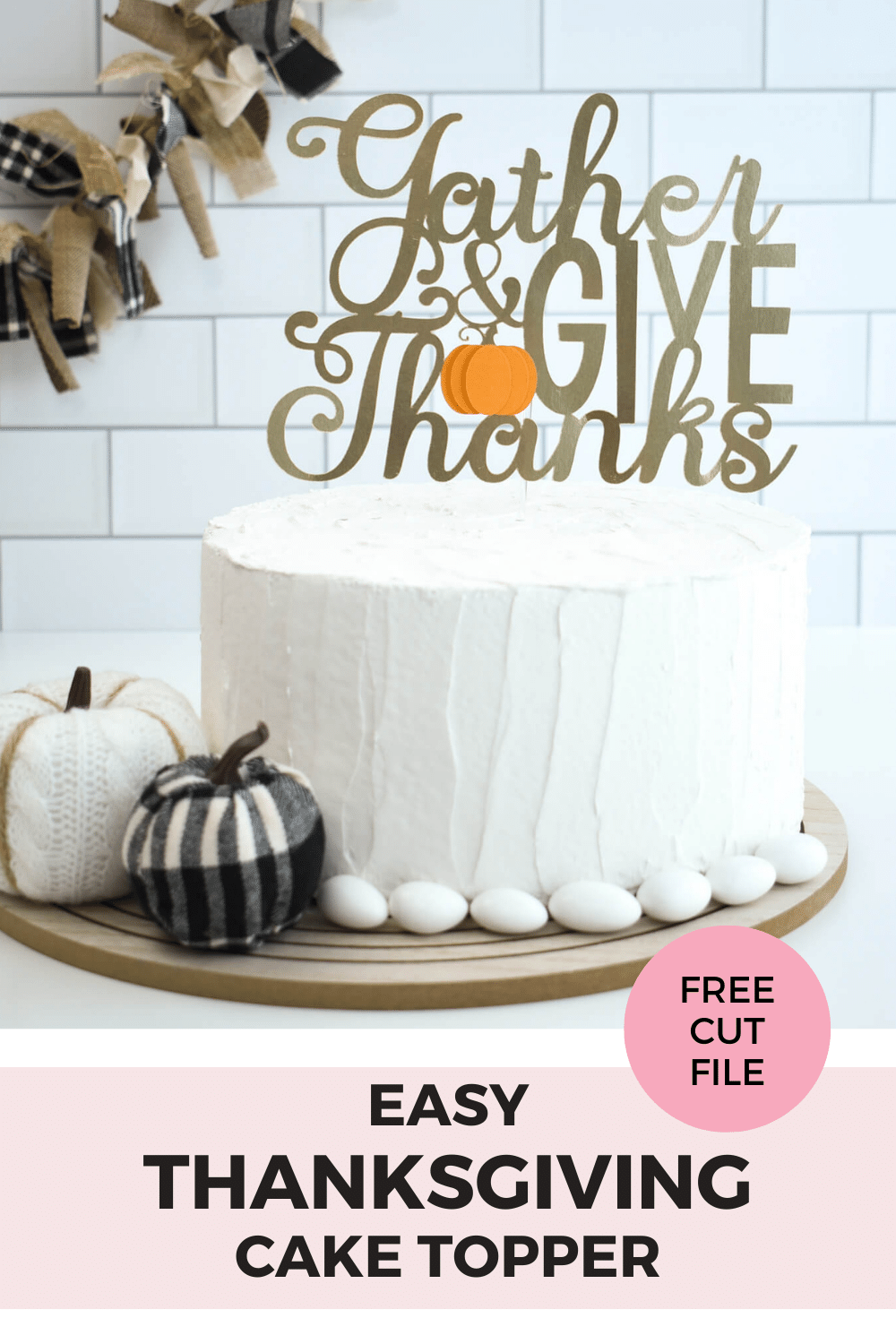 If you head over to Craftaracreates.com you can learn how to make amazing cake toppers like this Thanksgiving one. Tara even includes a free cut file for you to use!
Craft Ideas for Thanksgiving
Craft Ideas for Thanksgiving – Wreaths
Do you enjoy using wreaths in your Thanksgiving decor? Why not try this natural chestnut wreath project from Bettesmakes.com! You could hang this wreath on your door to welcome your guests, or place it on a table with candles filling the inside of the wreath. Or combine some of the craft ideas for Thanksgiving that I shared here by making a table centerpiece with the wreath and cake topper in them.
You could also create a sign for your door. Why not use one of my pumpkin designs in my Fall SVG Bundle. You could put your family's name in the center of one of the pumpkins with the open space in the center.
This fall svg bundle includes a variety of pumpkin designs for your fall crafting and decorating. How to use the Fall SVG Bundle File If you have never used a SVG file, please review the information I have HERE about how to download them, extract them and then upload them to Cricut Design Space. By…
I hope that we inspired you with some craft ideas for Thanksgiving! Happy holidays!