Well, it took a little longer than I wanted for me to put this post together.  After taking some time off from attending the craft and hobby trade shows, this year I went to Creativation 2020 in Phoenix, AZ.  This was my first time attending the show in Phoenix.  The last time I attended it was still in Anaheim.  I did some videos from the show this year and you can check those out by clicking HERE.
One of the things I like doing while at the show, is finding all of the booths that have a product or project that features something Disney in it, or that I could see using in a Disney project. Here is what I found this year.
From A Vintage Girl
My friend Candy Rosenberg has a collection of unique vintage and steampunk inspired chipboard albums and embellishments. There is also a whole line of stickers, and I was so happy when I saw that she included a sticker set that is just my style. You can get this sticker set HERE.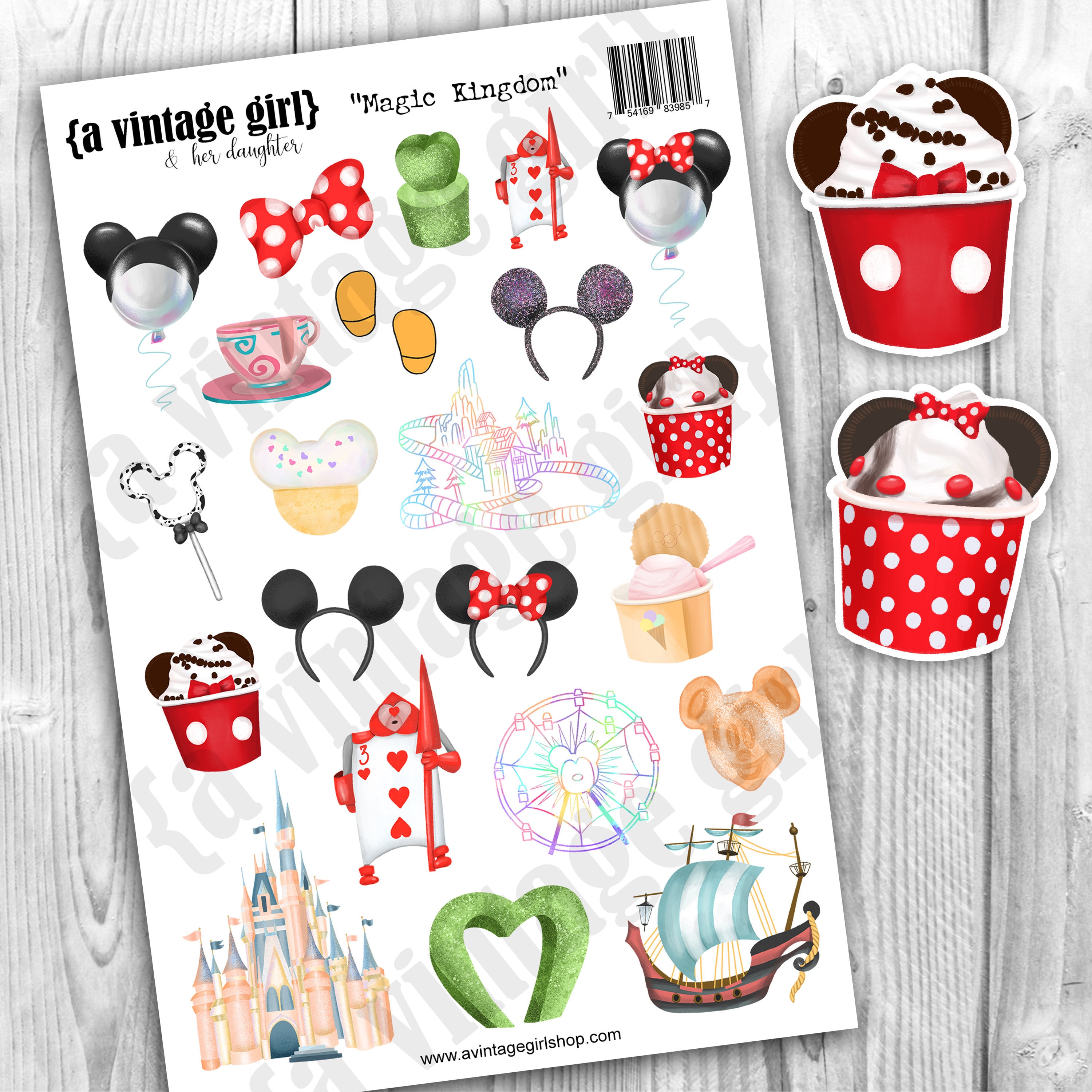 Check out all of Candy's work and tell her Shawn sent you!
From Clear Scraps
Clear Scraps has a few different Disney items. There are wooden Mickey Mouse head shaped blanks that you can decorate any way you want. These would be adorable to make welcome signs, or a baby's sleeping sign for a Disney nursery.
They even have one with a little window type cut out, so you can put souvenirs or photos inside the center of the cut out.
From Echo Park
Echo Park has such beautiful paper collections. This one is for Alice in Wonderland.
But this is my FAVORITE collection from Echo Park, called Remember the Magic. It is filled with pages with reds, blues, yellows and neutrals that will be perfect for scrapbooking a trip to Disney or a Disney themed birthday event.
There are coordinating accents, stickers, dies, stamps, brads and stencils.
Can you imagine combining this stencil with some foil . . . the results would shimmer and be perfect for a birthday card or a scrapbook layout of the fireworks.
From EK Success
EK Success has a LARGE variety of Disney items. Look at these 3D emoji squishy stickers! There are so many characters to choose from.
I needed a close up of Dory with those big eyes.
They also have these rhinestone embellishments
and of course, lots of paper
scrapbooks, kits and paper stacks
I like the Donald Duck on this one right in the middle
There is even Frozen 2 kits and paper
Then they did a display that showed a variety of ways to use their Disney products.
From Buttons Galore
Buttons Galore has buttons and embellishments that can be used on your Disney crafting projects.
Here the embellishments have been added to shaker cards.
From Scrapbook Customs
Diamond Dotz by Leisure Arts
I fell in LOVE with these! The Diamond Dotz featuring Disney images from Leisure Arts, Inc..
I love the way the princesses dress sparkles
From Scrap Collections
Scrap Collections has a large variety of papers and embellishments, but of course I was attracted to the Disney ones.
You can find their website HERE and follow them on Facebook HERE. Tell them Shawn Mosch sent you!
Hope you found something to inspire your next Disney craft!