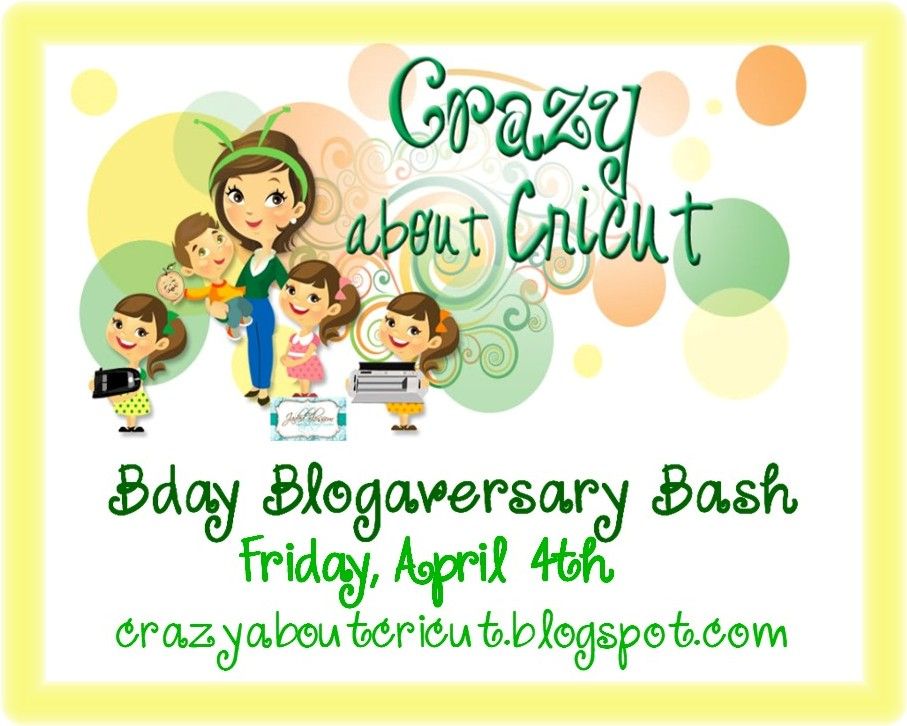 Welcome to the Crazy about Cricut Bday Blogaversary Bash Hop! You should have arrived here from Shawnee's blog. Make sure to go to http://crazyaboutcricut.blogspot.com/ to start at the beginning of this hop so that you don't miss any of the projects.
I had SO MUCH FUN making this card!
I am a fan of PEEPS . . . yes, those little sugar covered marshmallow bunnies that are everywhere this time of year. As a child when my sister's and I would get our Easter baskets, we would always trade candy . . . I will give you this many of something I don't like for this many of something you don't like. I always ended up with LOTS of PEEPS.
When I first received the new Hoppy Spring stamp set from Blue Moon Creations, I had visions of PEEP related projects.
For this card I started with some white paper and tapped of a portion of it. Then I used a teal, pink and yellow ink to just randomly apply some color to the white paper. Since it was taped off, I could smear and smudge my inks, and blend them into each other, but I knew that I would have a nice clean line when I removed the tape.
I used a stamp from the Hoppy Spring set to create the scalloped border edge, and another stamp from the same set for the It's Your Birthday sentiment.
Inside the card I stamped the sentiment Put a little HOP in your step.
I love how these PEEP bunnies sparkle! I cut all of them on my Pazzles machine out of the rhinestone sticker sheets from The Buckle Boutique.
If you liked any of the products I used, I have provided links to the companies below for you.
Blue Moon Creations Website // Etsy
The Buckle Boutique's Website // Blog // Facebook Page // Twitter // Pinterest
—————————-
BLOG CANDY ALERT!
Check out these amazing prizes up for grabs!
Prize #1 – Celebrate With Flourish Cricut Lite cartridge
Prize #2 – Life's a Party Cricut cartridge
Prize #3 – Jaded Blossom Birthday Candies stamp set
Prize #4 – Close to My Heart B Size stamp set
Prize #5 – Jaded Blossom Love Bites stamp
Prize #6 – Trendy Twine Twisted Lime Mini
Prize #7 – The Royal Castle Shoppe: The Scrapbooking Queen Royal Prize Pack
To enter:
1. Follow ALL blogs on this hop.
2. Leave a comment on ALL blogs.
We will check that you did both things, but it this hop will be open
through Monday night so you have plenty of time!
Your next stop on this hop is Angela at http://www.crazy3monkeys.blogspot.com/