Bullet Journaling 101: Start Your Own Bullet Journal at Home
Today we have a guest blog post from Maria Jose Meneses of Porch.com
Bullet journals are satisfying to look at and even more satisfying to create. Bullet journaling is an excellent tool for people with busy minds and busier schedules, because it allows you to organize your schedule in a way that's customized to your life. Forget spending tons of money on planners with custom-designed pages –– the bullet journal can do it all.
What is a Bullet Journal and what is it for?
Bullet journaling is an analog system of list-making, logging, and planning with endless potential for customizations. Bullet journals come in hundreds of covers and styles, but many bullet journalists swear by the dot grid journals. These tiny dots allow for more structure than a blank white page while encouraging freeform drawing and flexibility. Bullet journaling has rapidly gained popularity since its inception in 2013, and social media sites like Pinterest and Instagram — where it's affectionately referred to as BuJo — are rabbit holes of pictures showcasing the elaborate artistry people put into their bullet journals.
Benefits of Bullet Journaling
Bullet journaling is popular because it works. The system is easy to use and accessible to anyone –– you don't even need a graph paper journal if you're just looking to try it out. Bullet journaling can be done in a notebook, on loose sheets of paper, with a single color pen or a pack of rainbow-colored jelly pens. Ditch all the planners you never used and learn how bullet journaling can work for you.
Customizable
One of the biggest benefits of bullet journaling is it's highly customizable format. Instead of buying a journal for your daily gratitude list, a planner for school, downloading a budget app, and writing shopping lists on scraps of paper, you can do it all in your bullet journal. Use stickers, washi tape, and colorful pens to suit your aesthetic.
Helps you stay organized
Bullet journals make disorganization a thing of the past. Create hourly, daily, weekly, and monthly pages to keep your life on track, color-code events, make to-do lists and jot down that book recommendation you don't want to forget –– all in one place.
Inspires productivity
There's no greater feeling than crossing an item off your to-do list. Seeing the tasks you need to do laid out in front of you encourages you to get them done so you can move on to the next big thing. The sense of accomplishment at the end of the week when you look back at everything you finished is priceless.
Great for keeping lists
Who doesn't love making lists? Just turn to a blank page in your bullet journal and start jotting down movies to watch, favorite quotes, vegetables you want to grow in next year's garden, or places you want to visit. Don't forget important things like passwords, birthdays, and important phone numbers in case your phone dies.
Makes tracking long-term goals easy
Think of all the long-term goals you want to achieve and write them down in your bullet journal. Bullet journals make habit tracking a cinch –– draw out a calendar that spans anywhere from a month to a full year and each day you complete a new habit, mark it off. At the end of your time frame you can look back and see how well you did.
Develops creativity
Bullet journaling encourages creativity in a way other journaling methods don't. Create space for a daily sketch, make a special design to celebrate each new month, experiment with lettering, or build a mood board. Even if you don't consider yourself to be the creative type, you'll be surprised at how much fun you have with your bullet journal.
Essential Supplies
Ready to get started on your bullet journal adventure? It's super easy to set yourself up for success. All you need are a few essential supplies and you'll be ready to design the life of your wildest dreams.
Journal
The ideal bullet journal has quality paper, a faint dot grid, a sturdy front cover, and a back pocket for papers, receipts, and stickers. Some journals also come with bookmarks which are handy for marking where you leave off.
Pens
Pick out your writing utensils. Fineliners, gel and ballpoint pens, brush pens, and highlighters are all favorites of bullet journal enthusiasts. If you're just starting, pick a black pen, a few colored pens, and a highlighter to test out before expanding your collection.
Ruler
Having a ruler on hand for creating straight lines and calendars. See-through rulers are an excellent choice because they allow you to see where you're drawing. Try finding a ruler that fits into the pocket of your bullet journal for easy access.
Stencils
Stencils are an essential for keeping your bullet journal looking tidy and symmetrical. There are a ton of options, from circular habit trackers to uniform squares for making daily and monthly calendars.
Washi tape
Washi tape is the sweetheart of bullet journalists. These delightful rolls of tape come in unlimited colors, sizes, and patterns that are great for changing up the style of your journal. Pro tip: get yourself a wash tape dispenser to keep your rolls organized.
Stickers
Who said stickers are just for kids? Stickers take bullet journaling to the next level. Deck out your pages in fun stickers that help you mark important dates, events, and stay productive.
Sticky notes
Plans change and sometimes putting something down in ink feels a little too permanent. Enter the sticky note. Write down any tentative plans or possible dates on a sticky note and place it in your journal.
Stamps
Writing and drawing the same set up over and over again gets old so invest in some stamps to make setting up your daily and monthly spreads faster and easier. They come in all sorts of styles that make beautifying your bullet journal a breeze.
Pencil Case
Once you start buying pens and markers for your bullet journal, you'll be surprised at how fast your collection grows. Get a pencil case to keep all your pens organized and within reach.
Watercolors
Watercolors are the cherry on top of your beautiful bullet journal. Portable watercolor sets are easy to take with you on the go so you can keep up with your daily sketch goals or add accents to calendars and lists.
Basic Pages
These basic pages are the core tenets of the bullet journal structure. Follow them and prepare to be amazed at your increased productivity! Start by filling out the index page and from there, plan out one month at a time to keep yourself from getting overwhelmed by too much information.
Index
The index goes at the very front of your bullet journal. In it, you'll put the page numbers for all your key information like monthly calendars and collections so you can easily locate the information you need.
Future Log
The future log is for tasks, events, priorities, and appointments for the coming months. This is where you'll put long-term items that you're striving to achieve or need to keep track of.
Monthly Spread
The monthly spread consists of a calendar and task page to keep you on track for the current month. Start drafting out the next month at the end of the current month and keep any dates you need to remember in the future log.
Weekly Spread
Weekly spreads aren't used in the original system but they're useful for planning your life out for the next seven days. Appointments, deadlines, and goals all go here. Some people replace monthly or daily spreads with weekly spreads. Find what works for you!
Daily Spread
The daily spread is for day-to-day use. On the top of your page, write the date as your topic and over the course of the day, write down tasks, events, and notes as they come up.
Collections
Collections are a catch-all for anything you want to add to your bullet journal that doesn't fit into any of the previous categories. Projects, goals, brainstorming sessions, and lists are all collections you can use in your journal.
Collections Worth Having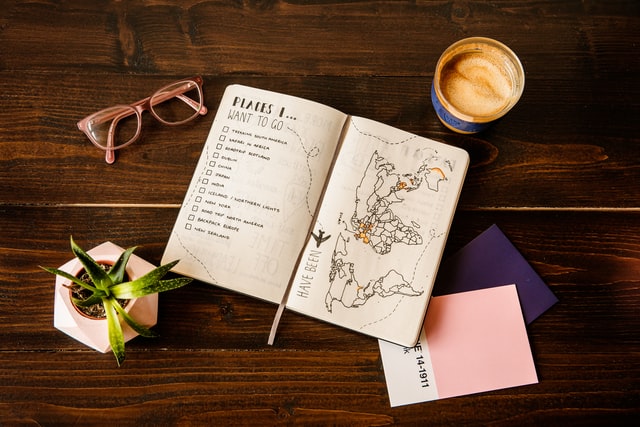 Using collections frees up brain space so you can focus your attention on other parts of your life. If you're trying to organize a collection but feel stuck, fear not. There are numerous strategies and formats available on the internet for bullet journal collections.
Habit tracker
Are you trying to drink more water or meditate everyday? Put it in your bullet journal as a habit tracker list so you can mark off each day you practice your new habit.
Sleep tracker
UseBullet journaling to help you get more z's. Keep track of what you do and eat each night before bed so overtime you're able to see which activities help and hinder your sleep.
Memories log
It's easy to lose memories in the cracks of each day. After each month, create a page for memories you want to write down to reflect on later.
Traveling bucket list
Do you have a serious case of wanderlust? Write it down! Keep a list of every place you want to visit.
Gratitude log
Since you'll already be using your journal everyday, why not add in a gratitude list? Write down five things you're grateful for everyday and watch your life transform.
Self-care tracker
Journaling is a fantastic method for keeping track of personal care, emotional care, and spiritual care.
Weight loss tracker
Using a weight loss tracker as a visual aid to attain your weight loss goals can help you see your progress when the physical gains aren't so obvious.
Reading log
Are you a book lover? Keep an ongoing list of all the books you read so at the end of the year you can look back on what you've read. Bonus points for using stickers to rate each book.
Final Thoughts on Bullet Journaling
Bullet journaling is a wonderful way to keep track of your day to day life and stretch your creative muscles. Remember –– you don't have to have a ton of supplies to get started! A journal that makes your heart sing and a few choice pens are all you need. You'll love the satisfaction and delight you feel every time you use your bullet journal.
Originally posted in Porch.com